FOR GOD SO LOVED THE WORLD THAT HE GAVE HIS ONLY BEGOTTEN SON THAT WHOSOEVER BELIEVES ON HIM SHOULD NOT PERISH BUT HAVE EVERLASTING LIFE. - John 3:16
Want to Know God Personally?
Contact/Staff:
Rev. James Hogan
Lighthouse Youth Ministry and Recreation Center
405 Sixth Avenue
Menominee, Michigan 49858
906-863-2779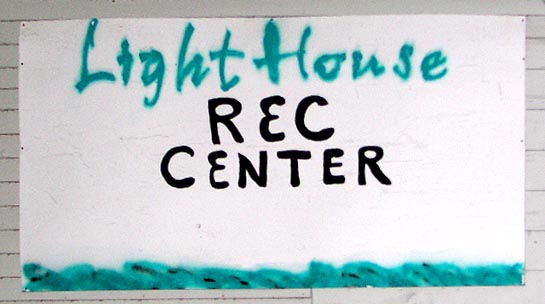 What is Lighthouse?... See our Photo Gallery!

LIGHTHOUSE was formerly known as the Bohemian Hall. We have a game room with a soda and snack bar. Coffee is served for our more mature customers. We also have video games, foosball, ping pong, pool tables and a big screen TV. We also feature special events from time to time. One recent event was a youth lock-in and pizza party. Special guests talked to the kids about morality, sexual purity and God's view of sex using drama and object lessons to communicate their message.

LIGHTHOUSE has approximately 5,000 square feet of space which also includes a lounge area and a gymnasium. In the gym we play basketball, volleyball, kick ball, battle ball and other games.

LIGHTHOUSE has no age limits and no membership fees. We are a non-profit interdenominational Christian Organization and are privately funded.

WORSHIP:
Saturday night at 7:30 p.m. is our worship time. We have live contemporary music and an inspirational message from the Word of God. We also have ministry for children.

LIGHTHOUSE HOURS:
Friday and Saturday - 6:30 to 10:00 p.m. Sunday - 6:30 p.m. to 9:00 p.m.

LIGHTHOUSE presents Christian Concerts once a month. We invite you to come and be a part of this monthly musical experience. We feature bands that come from all over the country.



LIGHTHOUSE MISSION STATEMENT: Lighthouse is a non-denominational Christian organization. The primary purpose of this facility is to instill in today's young people moral absolutes and values from the scriptures and to reach all people with the message of the gospel.


Lighthouse Youth Ministry and Recreation Center; 405 Sixth Avenue; Menominee, Michigan 49858; PHONE: 906-863-2779